Understanding NW Ohio Schools PowerPoint & Information
Thank you to those members who took time to attend the Understanding NW Ohio Schools continuing education class held here in the TRAR office on June 6, 2018.  For those Members who were unable to attend, please CLICK HERE to view the PowerPoint presentation from the class.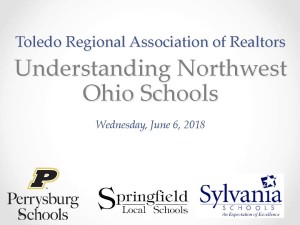 The Superintendents welcome any additional questions that you may have regarding the area school districts.  Please find their contact information below.
Matt Geha – Springfield Local Schools – 419-867-5604
Adam Fineske – Sylvania Schools – 419-824-8501
Thomas Hosler – Perrysburg Schools – 419-874-9131