REALTOR Open House Weekend May 17-19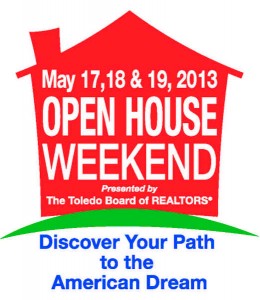 REALTOR® Nationwide Open House Weekend was held on April 20-21, 2013.  State and local REALTOR® associations across the country hosted the nation's largest open house campaign.  Feedback from brokers, REALTORS® and affiliates in Toledo and the surrounding communities was very positive and the Open House Weekend was a huge success.  So much so, that we have decided to do it again!
May 17-19 will be REALTOR® OPEN HOUSE WEEKEND.  REALTORS® in our communities will hold open houses, bringing value to both buyers and sellers.  The event also provides a tremendous opportunity to promote the benefits of home ownership and continue and open dialogue with consumers about the housing issues that matter most to them.
Toledo Board of REALTORS® will be promoting this event by:
Advertising in The Blade Industry Spotlight Article by TBR President Brad Crown in the Homes Magazine on 5/17/13 promoting the Open House Weekend Press Release Social media postings on Facebook and Twitter
If you wish to participate in the REALTOR® Open House Weekend, here are a few suggestions:
Make sure you enter your Open Houses in MLS Showcase your Listings in The Blade with aspecial Open House Weekend Ad Promo (deadline to submit ads is Tuesday, May 14 by noon) Refer your buyers and sellers to the Homes Section of The Blade where TBR will be promoting the Open House Weekend in the Industry Spotlight article by TBR President Brad Crown Check out the NAR Field Guide to Open Houses with safety information, open house tips and help with preparation for your Open House Helpful Open House flyer/handout for your buyers and sellers
If you have any questions, please contact Christ or Megan/TBR at 419-535-3222.