Director Candidate: Kathy Kuyoth, RE/MAX Preferred Associates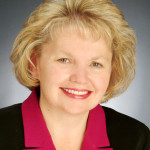 Kathy Kuyoth is currently running for a Director's seat for a three year term (2019, 2020, 2021).  Below please find information regarding Kathy's qualifications.  Kathy may be reached at kkuyoth@metrotoledohomes.com for any additional questions.
Company:  RE/MAX Preferred Associates
Years Licensed:  30 plus
Type of License Held:  Broker
University Attended:  Davis Business College
Position held at Company:  Owner, Partner, Coach, Office Manager, Trainer
List of TRAR Committees Chaired:  Professional Standards and Grievance
List of TRAR Committees Participated in:  Legislative and Professional Standards
Served as a TRAR Director in the past:  Yes, 2015 to present
Years received the TRAR Million Dollar Club Award:  n/a
Describe current and past community involvement: Kathy is involved in Christ the King Church as a Eucharistic Minister, usher and she also serves on the Parish Council.  Kathy is currently the Chairperson for the RE/MAX Preferred Associates Cinco de Mayo event.  This annual event benefits the Children's Miracle Network and Susan G. Komen for the Cure.  Kathy is also a Team Captain for the Komen 5k each year.  Kathy was awarded the 2013 TRAR Citizen of the Year Award.
Financial Oversight Experience:  Kathy is in charge of analyzing financials for RE/MAX Preferred and the LLC for the building.
Government Affairs Experience:  She has served on the Legislative Committee for the past few years.
Communications Experience:  Kathy has experience with Dale Carnegie plus she has taken several RE/MAX Communications classes.
Strategic Planning Experience:  She actively participates in the annual strategic and planning sessions for TRAR and RE/MAX Preferred.
Technology Experience:  Kathy attends several Jared James technology sessions to stay up-to-date on the latest technology.
Real Estate Trends Experience:  She keeps current on real estate trends through RE/MAX, Real Trends, Inman and other industry publications.  Kathy makes a special effort to stay well informed in this area.
Leadership Experience:  Kathy has experience for multiple years as a Broker, Manager, Coach, Mentor, Church Leader and has also served for 3 years on the TRAR Board of Directors.
Why does Kathy wish to be a Director:  Kathy has learned a lot throughout her career and feels that she has a wealth of information to share with the TRAR Members and Leaders.  She would like to give back to the industry that has allowed her to have a very successful career.
Voting will be available for all REALTOR Members starting Monday, December 3, 2018 through Friday, December 14, 2018.  Please CLICK HERE to vote.