Twitter hinted at a lot of new features being tested in the past year, causing many marketers to wonder what the user experience was going to look like in 2015. Well, the wait is over, and it looks like they've made good on their promises. The scope of updates, introduced over the past few months, ranges from small changes to existing features, such as embedding Tweets within other Tweets, to additions of new capabilities, such as the Twitter Buy button.
In rapid succession, Twitter has rolled out several big updates over the past few days: native video is now supported in Tweets, direct messages can be sent to a group of users, and a recap feature will allow users to see the popular Tweets they may have missed while offline. These changes have the potential to carry a significant effect on your brand's Twitter strategy. In case you missed the news, here's what you should know about the updates and how it affects the way we Tweet.
While you were away
The real-time nature of updates on Twitter has been its main distinguishing factor over other social networks since the beginning. However, it also made it more difficult to catch Tweets after some time has passed since their initial posting time, without having to go directly to the user's profile—unless someone has recently retweeted it to your network.
Twitter's first step towards making Tweets easier to discover was the introduction of a more robust Twitter search engine, which could retrieve Tweets dating as far back as 2006. For those users who weren't necessarily looking for any specific Tweets, but wanted to stay aware of popular conversations in their network, Twitter had the optional email update summarizing Tweets that have received the most engagement in your network.
The new recap feature, which was launched to iOS users on January 21, functions similarly to the email notification; judging by the number of engagement factors, such as retweets and favorites, Twitter will provide a summary of best-performing Tweets since the last time you logged in, and place them at the top of the feed, marked by a "While you were away" heading. The feature has been launched to the network's iOS app, and it's expected to roll out for Android and desktop users shortly.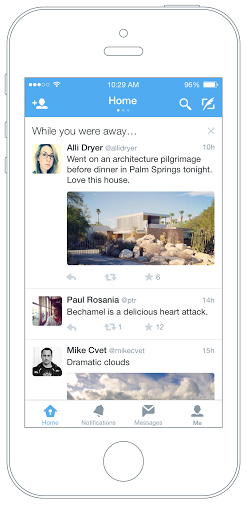 While the change is relatively small in nature, "While you were away…" is the first feature to break Twitter's traditionally chronological timelines. While the reaction to Twitter's move away from its function as a strictly real-time channel has been a mixed one, the network's developers are hoping these new additions will attract more users who browse popular Tweets without actually logging in. For existing Twitter users, the implications of this change are simple: since Tweets with high engagement rates will become more visible, even to users who were offline when the Tweet was first posted, it's a great encouragement for brands and active Twitter users to compose engaging messaging. If you're interested to find out more, we have a great story of how we increased our Twitter engagement on @Hootsuite account—stay tuned for the post coming next week. In the meantime, here are some lessons on engagement we learned from our most popular Tweets.
Group Direct Messages
To social media professionals who have been following Twitter's plan closely over the past couple of months, the launch of Tweet recaps or group DMs isn't exactly news. In fact, Twitter executives have previewed both features at a session with financial analysts in early November of 2014. At the event, Twitter's CEO Dick Costolo also revealed that there are over half a billion users who visit Twitter each month without logging in; and these new features are aimed at monetizing on these visits.
Twitter's group direct message feature, which has been slowly rolling out to all users over the past week, allows you to have a private conversation with multiple Twitter users at once. You can start a conversation with any of your followers, and the participants don't have to follow each other in order to join. You can start a group DM by selecting the people you'd like to chat with, and sharing your first 140-character message; the participants will get notifications of a new group chat.
The group DM feature has been getting a very positive response among both casual users and tech reporters. In addition to allowing strangers to talk to one another privately and more flexible privacy requirements to have a Twitter account, group DMs also potentially take a lot of the traffic that may otherwise be taking to a "dark social" medium—a text message or a Gchat ping—back to the mainstream social network with open referrer sources.
Twitter video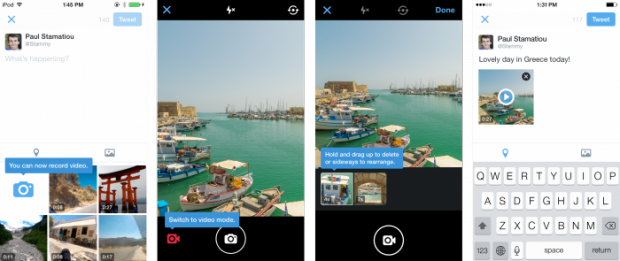 Rich media drives engagement. This has been proven over and over, on major social networks such as Facebook and Twitter, and contributed to the rising popularity of Instagram and Snapchat.
Twitter introduced a mobile feature that allows users to shoot video directly in the app, and Tweet it out in an instant. Videos can run up to 30 seconds, and can be viewed by tapping a thumbnail straight from the Tweet—similar to the way you can view Vines or GIFs. As an extra perk for iPhone users, those with an Apple device will be able to upload videos saved on the Camera Roll.
Preceding Twitter by a couple of months, Facebook's latest update to its video feature has taken off so fast that it presented the network as serious competition for the video-sharing giant, YouTube, so it's not surprising Twitter has decided to enter the playing field. Some tech writers even call it a "direct shot" at Facebook's recent decision to stop supporting Instagram in Twitter cards.
Twitter's video feature opens up new possibilities for engaging Tweets; but, more importantly, native Twitter videos will save the time it would normally take the user to shoot, upload and share videos from other networks, such as Instagram or Vine. This both increases the convenience of chronicling video in real-time, and ensures that Twitter users stay within the app for as long as possible.