Important information regarding Department of Public Utilities
CITY OF TOLEDO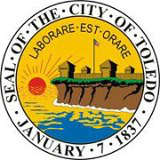 DEPARTMENT OF PUBLIC UTILITIES
Division of Utilities Administration
As a continued effort to improve Customer Service and to reduce the amount of time a customer waits to speak to a representative when calling Customer Service, we are expanding the Customer Service Call Center hours, effective Monday, July 1, 2013. The current hours are Monday through Friday from 8:00am – 5:30pm. The new hours of operation will be Monday through Friday from 7:00am – 6:00pm, opening 1 hour earlier and staying open ½ hour later each business day.
We have listened to our customers who have expressed concerns about wait times in the call queue, with an emphasis that it is an inconvenience to call during work hours, especially on a break or lunch. With the expansion of our hours of operation, customers will be able to call Customer Service before work, beginning at 7am or after work until 6pm. Even though the phone lines will turn off at 6pm, we will still continue to serve every customer call that is in the queue.
At this time, the Customer Service Walk-In hours of operation will not change. Representatives are available to assist customers in the Walk-In Monday through Friday from 8:00am – 4:30pm. In addition to calling Customer Service or visiting the Walk-In Area, a customer can email Customer Service at dpucustomerservice@toledo.oh.gov. A representative will contact the customer ASAP.
The expansion of our Customer Service Call Center hours follows the recent extension of the number of days a customer has to pay a bill from 15 calendar days to 15 business days which gives the customer an average of 3 – 4 more days to pay.
In addition, we are pleased to announce that we are in the process of hiring an additional 8 Customer Service Representatives who will begin their training in July.