REALTORS Support Positive Clean Water Act Proposal (WOTUS)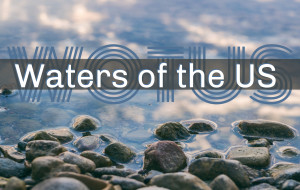 This directive formed what came to be known as Waters of the U.S., or WOTUS, and quickly emerged as one of the Obama administration's most talked about – and controversial – regulations.
Clean water is essential to life. It creates the opportunity for a healthy environment, a growing economy and allows us to live in vibrant neighborhoods across this country. That's why the National Association of Realtors® – including the Toledo Regional Association of Realtors®  – continue to support voluntary, market-based solutions that enhance the quality of our water resources while protecting private property rights.
However, as it was written nearly five years ago, WOTUS greatly expanded the federal government's control over local land use decisions, ceding authority to those in Washington who were too often unaware of how their directives impacted communities here in Northwest Ohio, stifling local businesses and our overall economy.
As the EPA works to improve upon the original WOTUS rule – ensuring clean water is protected and prioritized as Congress intended when it passed the Clean Water Act — the Toledo Regional Association of Realtors®, along with potential home buyers and property owners across the country, urge the EPA to minimize the unnecessary regulations, costs and uncertainty that have come with WOTUS.
Earlier this month, the EPA released a proposed rule intended to do just that.
Right now, 22 states across the country have filed lawsuits fighting WOTUS' implementation, creating an inconsistent and uncertain national regulatory framework that has held back the economy in the communities impacted most by the EPA's rule, specifically here in Northwest Ohio.
The EPA's newest proposed rule would establish national consistency and would rebalance the relationship between the federal government and states in managing land and water resources.  It would make it easier to understand where the Clean Water Act applies and – more importantly – where it does not, eliminating timely and potentially expensive regulatory burdens for well-meaning business and property owners.
The EPA's ongoing push to rework WOTUS is a positive, defined step toward obtaining a clear and consistent definition of this rule, a welcomed move that will help provide certainty to the development and real estate industry. With that certainty, an improved business climate and a stronger housing market will follow. And that's something we should all hope to see.
Discover more @ https://www.nar.realtor/clean-water-act