TRAR 2017 Election Candidate: Mike Crouse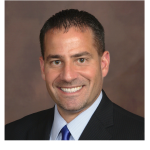 Mike has been in the real estate business for 22 years.  He attended the University of Toledo and is currently a salesperson with RE/MAX Preferred Associates.  Mike is the 2017 TRAR Young Professional's Network Chair.   In past years, he has served as TRAR Board of Director in 2008, 2009, 2010, 2011, 2012 and 2014.  Mike is a lifetime member of the TRAR Million Dollar Club.
Mike has specific experience in the following areas which will help him as a Director…
(1) Government Affairs:  participated in meetings with local and state officials conveying the needs of our board members and its Affiliates
(2) Communications:  championed and helped coordinate "Why Buy Toledo" campaign; including meeting with specific Affiliates
(3) Technology:  taught or helped organize technology sessions for RE/MAX Preferred Associates and TRAR events
(4) Real Estate Trends:  ability to provide great insight in regional and local events and their impact on our local real estate market.
A few words from Mike on why he would like to serve as a Director….
Being licensed for as many years as I have been has given me the ability to watch the industry change in so many ways.  Starting out with pagers to cell phones and now to multiple social media outlets such as Facebook live has forced me to grow with the times and adjust accordingly within our industry.   Being full time, I am able to provide current and accurate insight as to what all my colleagues are going through in their day-to-day activities.  I believe that serving as a Director will give me the opportunity to be more involved and to be an influential activist and educator on how the industry evolves and grows.  I feel I can help structure how our local Board is viewed by affiliates and the community alike.  We have so many wonderful real estate colleagues on our Board.  I would be honored to serve them as a TRAR director.