TRAR Election Candidate: Andy Shock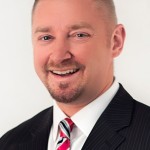 Andy has been in the real estate business for 13 years.  He is a graduate of the University of Toledo with a degree in Business Management and Paralegal Studies.  Andy is currently a Salesperson with RE/MAX Central Group.  He is a lifetime member of the TRAR Million Dollar Club.  Andy has served as an event coordinator for the Susan G. Komen Golf outing, coached high school baseball for four years and was the coordinator for Team Bigelow Putt on 1 Annual Golf Outing to raise money for spinal cord injury victims.
Andy has specific experience in the following areas which will help him as a Director…
(1)  Financial Oversight:  responsible for financial review for a company to evaluate financial economic and positional climates to acquire commercial property and retail space.
(2) Government Affairs:  assisted previous Mayor Mike Bell on campaign to becoming Mayor for the City of Toledo during the 2010 election.
(3) Communications:  conducted real estate seminars
(4) Technology:  well versed in technology especially in windows, Mac, Apple
A few words from Andy on why he would like to serve as a Director….
Andrew (Andy) Shock is a native of Sylvania, Ohio, born and raised here in the Northwest Ohio area.  Andy has been in real estate in this great community his entire professional life.  Originally getting his license in 2004, he became an active member of what was know as the Toledo Board of REALTORS, known now as the Toledo Regional Association of REALTORS® (TRAR).  Previous to being licensed, Andy accompanied and assisted his father in real estate while attending Stauzenberger College as a sophomore in high school to obtain his Ohio Real Estate sales person license.  (Dave Shock, licensed at RE/MAX Central Group, has been an active licensed REALTOR® and an active member of TRAR since 1998).  Andy exemplifies the highest level of professional standards in his business, life and in the industry.  As he begins his journey to become President of the Toledo Regional Association of REALTORS (TRAR), The Board of Directors is the beginning of the process; the beginning of great things to come for the members of TRAR, and the great community we work, play and live in everyday!  Andy will continue to enthusiastically promote, mentor, educate, and live his vision for the industry and the industry standard, as he operates at the highest moral, ethical, and professional standard that the members of TRAR expect and the great members of this great community DESERVE!  Andy is a staple for the community and the standard for the industry.