TRAR Election Candidate: Jo Lyman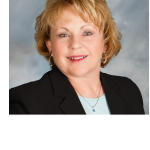 Jo has been in the real estate business for 16 years.  She is a graduate of the University of Toledo and Siena Heights with a Masters in Educational Psychology.  Jo is currently a Salesperson with Key Realty.  She has served on the Grievance committee and is a lifetime member of the TRAR Million Dollar Club.  She has given back to her community by serving as the President of the Holland-Springfield Chamber of Commerce.  Jo also served on the marketing committee in support of the Ovarian Cancer Connection.
Jo has specific experience in the following areas which will help her as a Director…
(1) Financial Oversight:  General Manager of Superior Kitchens with financial responsibility
(2) Government Affairs:  Delegate to Whitehouse Conference on Small Business appointed by Marcy Kaptur
(3)  Strategic Planning:  facilitated strategic plans for companies as a consultant with the Perz Group
(4)  Real Estate Trends:  NWOhio CRS Delegate
(5)  Leadership Experience:  Past President, Vice President, Secretary and Treasurer for BNI COBRA.
A few words from Jo on why she would like to serve as a Director…
I believe it's time for me to give back to others in the real estate profession.  As a way of promoting an improved perception of REALTORS® by the public, I would like to promote education and achievement of higher National Association of REALTORS® recognized designations.
Most important for me is to represent the views and opinions of my constituents so that the Toledo Regional Association of REALTORS® can continue to improve and grow.