TRAR Election Candidate: Tori Crowell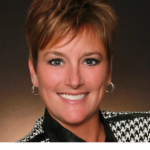 Tori is the Vice President of Sales with Louisville Title Agency.  She has a Bachelors in Communications from Saint Mary's College.  Tori has served on the Affiliate Committee for the past several years.  She is currently an active member of St. Andrew's Episcopal Church and serves as a Vestry member.  Tori currently serves on St. Andrew's Sunday School committee.  She is a Eucharistic Minister, Lay Reader and has directed the Acolytes for the past fives years.  Tori also volunteers at both St. Francis de Sales and St. Ursula Academy.  She is a member of the Junior League of Toledo and serves as the Chair of fundraising including Done in a Day, Dancing in the Streets, Toledo After Hours, Town Hall Lecture Series, New Member Committee and Underwriting.  She also serves on the YPN and Make-A-Wish Board.  She happily gives back to the community by volunteering for the Toledo St. Jude Dream Home Giveaway program.
Tori has specific experience in the following areas which will help her as a Director…
(1)  Financial Oversight:  experience of long and short term budget planning with preparation for the Mortgage Bankers Association, HBA and church Vestry.
(2) Government Affairs:  support of local RPAC and BPAC committees to promote, protect and improve the real estate and building industry in the real estate market.
(3)  Communications:  proficient in written, verbal and computer communication skills.  Also conducted and taught numerous continuing education courses as well as led company meetings for Louisville Title.
(4) Strategic Planning:  provided strategic planning for several on-going and forthcoming projects for Louisville Title and communicated regularly with senior management to organize, prioritize, and assign work as well as monitoring the progress throughout.  This work included co-writing Louisville's ALTA Best Practices to maintain compliance required under the recent CFPB regulatory changes.
(5)  Technology:  experienced in Microsoft Publisher, MS Word, Excel and PowerPoint.  Proficient in Dotloop and numerous social networking sites including Facebook, Snapchat, Instagram and Pintrest.
(6) Real Estate Trends:  follows real estate news on Realtor.com, Inman, The Title Report as well as other national and local news sources on a daily basis for local and national real estate trends.
(7)  Leadership Experience:  managed a team of 4 sales staff and 15 escrow staff with Louisville Title for 6 years and provide leadership in those departments.   Currently train and assist in organization, prioritizing and assigning work as well as monitoring progress for the staff.  Also supervises, guides and evaluates performance of staff alongside senior management.
A few words from Tori on why she would like to serve as a Director…
"My desire to serve on the TRAR Board of Directors as the Affiliate member is simple; I have a passion for the real estate industry!  After 19 years in the title insurance profession, mostly out and about in my "mobile office", I have come to know and respect many real estate agents, lenders, builders and other title sales representatives in our market and I would truly be honored and enjoy the opportunity to represent the affiliate membership of TRAR.  I feel serving as a Director will allow me to stay-up-to-date on new and additional knowledge on industry issues as well as give back through volunteering the skills and talent I have gained from experience in our business.  As part of the Board, I would like to work on the positive projects I've seen TRAR put forward, as well as being able to have an impact on its members' daily business lives and professional growth."