Homesnap App coming 12.3.14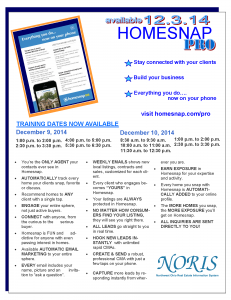 You're the ONLY AGENT your contacts ever see in Homesnap.
AUTOMATICALLY track every home your clients snap, favorite or discuss.
Recommend homes to ANY client with a single tap.
ENGAGE your entire sphere, not just active buyers.
CONNECT with anyone, from the curious to the serious buyer.
Homesnap is FUN and addictive for anyone with even passing interest in homes.
Available AUTOMATIC EMAIL MARKETING to your entire sphere.
EVERY email includes your name, picture and an invitation to "ask a question".
WEEKLY EMAILS shows new local listings, contracts and sales, customized for each client.
Every client who engages becomes "YOURS" in Homesnap.
Your listings are ALWAYS protected in Homesnap.
NO MATTER HOW CONSUMERS FIND YOUR LISTING, they will see you right there.
ALL LEADS go straight to you in real time.
HOOK NEW LEADS INSTANTLY with unlimited rapid CMAs.
CREATE & SEND a robust, professional CMA with just a few taps on your phone.
CAPTURE more leads by responding instantly from wherever you are.
EARN EXPOSURE in Homesnap for your expertise and activity.
Every home you snap with Homesnap is AUTOMATICALLY ADDED to your online profile.
The MORE HOMES you snap, the MORE EXPOSURE you'll get on Homesnap.
ALL INQUIRIES ARE SENT DIRECTLY TO YOU!
Training dates now available
December 9, 2014 1:00 p.m./2:30 p.m./4:00 p.m./5:30 p.m.
December 10, 2014 8:30 a.m./10:00 a.m./11:30 a.m./1:00 p.m./2:30 p.m.