Toledo REALTOR Magazine – September 2016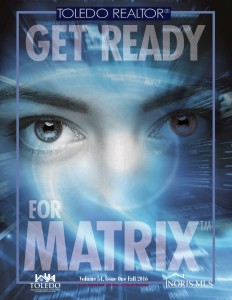 We have a busy next few months coming up here at the Board.  The TRAR Board of Directors and NORIS Board of Directors are thrilled to offer you MATRIX:  Your Upgraded MLS System.  Sharon Hubbard, MLS Director, and Lori Kedrie, MLS Assistant, have been working feverishly to get the system up and running.  They are excited to offer you 26 opportunities in October to attend a class.  In addition to the 26 classes held in October, we will also be hosting several classes in November.
We are ecstatic to announce the completion of our new TRAR Training Room.  This new training room will be available for TRAR Members to rent free of charge starting the first full week of September.  Please note that during normal business hours, we will be renting the original training room first to members.  If the original training room is occupied, then we will be renting the new training room.  Any times not during normal business hours, members are welcome to rent the new training room area.  If you would like to rent this room or the original training room, please contact our front desk receptionist, Bonnie, by calling 419.535.3222 or email her at bonnie@toledorealtors.com.
Finally, we are thrilled to have our very own John Mangas of RE/MAX Preferred chairing the 2016 Ohio Association of REALTORS® Convention & EXPO coming up next week.  OAR is still taking reservations for this amazing convention.  Please visit the OAR Convention & EXPO at http://www.oarconvention.com/ to register.  John and his committee were able to secure      renowned speakers such as Tom Ferry, Jackie Leavenworth, Leigh Brown, Sean Carpenter and much more.  I'd like to encourage you to check out the complete speaker schedule by clicking here.  Take a moment and listen to what John and Mary Ann Mills think about this year's OAR Convention & EXPO.  Check out to see if these two escape a very persistent bumble bee.
CLICK HERE FOR THE SEPTEMBER 2016 TOLEDO REALTOR MAGAZINE