Michael Abernathy – Commercial Representative Director Candidate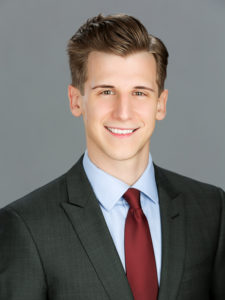 Michael Abernathy is currently running for a Director's seat for a three-year term (2021, 2022, 2023). Please find information regarding Michael's qualifications below. For additional questions, Michael may be reached at mabernathy@rkgcommercial.com.
Company: Reichle Klein Group
Years Licensed: 5
Type of License Held: Salesperson
University Attended: University of Toledo
Degree: Masters of Business Administration
Position at Company: Sales and Leasing Associate
NOR Committees Chaired: N/A
NOR Committee Participation: Government Affairs Committee, Affiliate of the Year Selection Committee
Served as a NOR Director in the Past? No
NOR President's Sales Club Years: 2017 – 2020
OR Committee Participation: N/A
Describe current and past community involvement: 
Michael has served as a Vice-Chair for EPIC Toledo from 2015-2019. In this role, he served as chairman for the 2018 EPIC Leadership Summit, the organization's largest and most well-attended fundraising event. He was responsible for planning and executing this day-long symposium with speakers from across the region delivering discourses on various topics.
Michael is a co-founder of Downtown 419 Inc. and has served as the Vice President since 2016. He started this 501(c)(3) in 2016 to promote social and economic vibrancy in Downtown Toledo. With this organization, he hosted events including holiday trolley tours, a pop-up barcade, a rooftop social series, and the conversion of an abandoned warehouse into a vibrant costume party. He helped raise over $100,000 with no corporate sponsors or donations.
Michael has been a member of the Toledo Regional Chamber of Commerce Leadership Fund Committee since 2018 where he conducts interviews of various candidates seeking public offices.
Michael has also served on the NOR Government Affairs Committee since 2019 and is on the Toledo Community Partner Leadership Committee (2018 – Present). In this role, he attends quarterly meetings with the Mayor & other various community partners to discuss economic development initiatives & other opportunities that the City of Toledo plans to pursue.
Financial Oversight Experience:
With Downtown 419, Michael establishes a budget & approves organizational expenses.
Government Affairs Experience:
Michael is involved with the Toledo Regional Chamber of Commerce Leadership Fund Committee as well as the NOR Government Affairs Committee.
Communications Experience:
Michael is responsible for handling communications and reporting of deal activity to Reichle Klein Group's two largest clients. He also assists Downtown 419 in creating social media content and delivering messaging to 25,000+ followers across platforms on Instagram & Facebook.
Strategic Planning Experience:
Michael is directly involved with strategic planning for Downtown 419 & EPIC Toledo, in addition to his own ever-evolving strategic planning for his real estate practice.

Technology Experience:
Michael has demonstrated proficiency using a variety of technological tools & resources both professionally and in community involvement.
Real Estate Trends Experience:
Michael is intimately involved in creating Reichle Klein Group's bi-annual office market report. His responsibilities include gathering of data, analyzing the aggregated data, & developing messaging to the public based upon that analysis.
Leadership Experience:
Michael has served as Vice President of EPIC Toledo & Vice President of Events for Downtown 419 Inc., as well as Chairman of the Planning Committee for the EPIC Leadership Summit and the EPIC Birthday Bash.
Why does Michael wish to be a Director:
Michael believes that there is strength in numbers and with a membership of over 1,800, a well-organized association is critical to the success of the real estate professionals in this region. Therefore, what better way to advocate for this industry than to take an active role on the Board of Directors for Northwest Ohio REALTORS. He has a strong desire to be directly involved in the planning and decision-making for the policies, activities and expenditures of NOR. He also feels that it is of great importance to strengthen the efforts of the political action and legislative committees to protect the interests of the real estate community and property owners at large.
Voting will be available for all REALTOR Members starting Monday, December 7, 2020 through Friday, December 11, 2020.