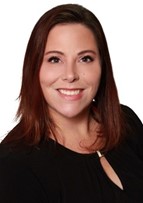 Sarah Ford
EXP Realty
Director At-large Candidate
WHY DO YOU WANT TO SERVE AS A DIRECTOR?
I have always been passionate about giving back to our profession, which should be apparent based on my resume of involvement. The past 3 years off the board were welcomed as I dove into my new role creating systems for growth, learning nuances in new areas, and absorbing all the things that have been thrown at me (and it was a lot!). As a member of every board and every MLS in the state of Ohio, I am in tune with where we stand as a benchmark with other boards. I now look forward to returning to the board to serve Northwest Ohio and truly feel I can bring a unique perspective to the Board to best serve our members.
TYPE OF LICENSE HELD – BROKER
Number of Years Licensed – 15
EDUCATION
University of Toledo
POSITION IN COMPANY
Principal Broker
NOR INVOLVEMENT
RPAC, Chair
Professional Standards Committee Grievance Committee
Young Professionals Network
OHIO REALTORS INVOLVEMENT
Global Business Alliance
Professional Standards RPAC
YPN
Communications Grievance
Local Government Forum Professional Development
PREVIOUS NOR BOARD OF DIRECTOR
2017-2019
PRESIDENTS SALES CLUB RECOGNITION
2015-2019
COMMUNITY INVOLVEMENT
Habitat for Humanity, volunteered with Sparrow's Nest Toledo, Fundraised for several dog shelters/rescues in the local area, volunteer for Neighborworks teaching homeownership classes.
GOVERNMENT AFFAIRS EXPERIENCE
I have served on both Global Business Alliance, Local Government Forum. Most recently and most passionately, I have been working directly with Beth Wanless and Stephen McCoy from Ohio Realtors to try to make sense of the Wholesaling issues we are seeing at the state level to determine if we can come up with a solution to protect the consumer while not over-regulating the business.
FINANCIAL OVERSIGHT EXPERIENCE
I sat on the TRAR board from 2017-2019 as a Director, reviewing the financials with the treasurer monthly. Ran the books for my own company for 13 years.
COMMUNICATIONS EXPERIENCE
I work daily to communicate effectively with 1500 agents. I switch between video, text, calls, emails, and newsletters. I strive to create relevant and concise content to ensure we have the highest open rate and our communication is meaningful for our agents. I also set on the Ohio Realtors Communications Committee in 2020.