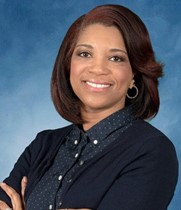 Shalonda Thurmond
Howard Hanna
Director At-Large Candidate
WHY DO YOU WANT TO SERVE AS A DIRECTOR?
I attended the Ohio REALTORS Convention for the first in 2021 as a Tomorrow's Leader Today and my intent was to learn how I can become more involved in real estate outside of listing and buying property for my clients. Being there showed me that getting involved is exactly what our consumers and industry needs. I want to be a part of the solution for problems and issues that may occur. I don't want to be the one complaining about a negative circumstance, but yet I want to be a part of a group that is doing something positive about it instead. With my collective experience and what I have learned thus far, this opportunity is definitely another way I can serve my community which is what I love to do.
TYPE OF LICENSE HELD – SALESPERSON
Number of Years Licensed – 7
EDUCATION
Ashford University
POSITION IN COMPANY
Agent
NOR INVOLVEMENT
Diversity, Equity & Inclusion Committee Leadership Academy
OHIO REALTORS INVOLVEMENT
State Political Coordinator
Director
PRESIDENTS SALES CLUB RECOGNITION
2022
LEADERSHIP EXPERIENCE
The leadership experience I have is well over 15 years. It started as a Sales Manager and then Channel Manager giving collectively 13 years in leadership, while in conjunction holding a Chair position of a Board for 4 years and now currently Pastoring a church for the past 4 1/2 years. These all play a big part in the leader I am today.
FINANCIAL OVERSIGHT EXPERIENCE
Serving as a Board of Director of a Credit Union for 12 years, I reviewed the finances of this institute monthly with the Chairman and Directors to assure it remained healthy for the membership. We agreed on solutions that would impact the credit union in a positive way. In my previous career I was a Sales Manager for 13 years. Part of my responsibilities was to create and manage the budget plan of my department.
STRATEGIC PLANNING EXPERIENCE
In my previous career I was a Sales Manager for 13 years. Part of my responsibilities was to have a strategic plan created for the sales goals of my team. This had to be generated along with the budget plan of my department of which I was responsible for setting as well. As a Board of Director of a credit union for 12 years, I was also responsible for participating in the yearly strategic planning we set time aside to create for the upcoming year.
GOVERNMENT AFFAIRS EXPERIENCE
As a State Political Coordinator of Ohio REALTORS, I attended the REALTORS at the Rotunda on April 5, 2022. I listened to the keynote speaker from the Ohio Supreme Court Justice, a panel involving the Ohio Democratic and Ohio Republican Parties, as well as others involved in Real Estate and Government Affairs. I also arranged to meet with my respective legislator Senator Teresa Fedor of the 11th District later at the cocktail reception held at the Ohio Statehouse Atrium to educate on why legislation is critical for consumers and the state's real estate sector. There were several key bills that I was to briefly bring to her awareness.
TECHNOLOGY EXPERIENCE
My previous place of employment for 19 years was at a local cable and internet company. I started with the company that sold to commercial clients as a Sales Specialist for 6 years selling dedicated internet and voice service to small and medium sized businesses. I was promoted to Sales Manager of the sales team with the other company selling cable, internet, and voice service to residential customers and stayed in that position for 10 years. I then made a lateral move back to the company that sold internet and voice service to commercial accounts as the Channel Manager for 3 years. All of these roles required me to stay current in learning technology especially as it was rapidly advancing.