Realtors Property Resource

What is RPR®?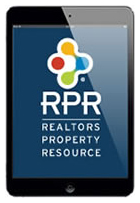 Comprehensive data, powerful analytics, and dynamic reports for each of NAR's constituencies
100% Owned by REALTORS®
Created by NAR for the sole purpose of providing REALTORS® with the data they need to meet the demands of their clients. There are no third party investors or silent partners.
Only available to REALTORS®
No third party or public access…guaranteed. The only way a non-REALTOR® has access to the data in RPR is through an RPR report that has been created, branded and sent by a REALTOR®.
No Cost Member Benefit
Included in yearly NAR dues, RPR does not cost REALTORS® any extra money. Period. Available to all REALTORS® across the country, RPR also has tools for Brokers, Commercial, Appraisers, Associations and MLS.
24/7 Customer Service: 877-977-7576

RPR Mobile™ for your members
Your members know deals aren't just made in the office. That's why RPR created the new RPR Mobile™ app. Available to all REALTORS® on iPhone and Android, we wanted to share some of the valuable support resources we have created to help you communicate this powerful resource to your members.
A little background
REALTORS® equipped with RPR Mobile™ can use their location to instantly view any property nearby. They can also get listing, sales, valuation, assessment, deed, foreclosure, and school information, plus photos and market trends. To impress clients on the spot, RPR Mobile™ gives REALTORS® the power to create, customize, and send RPR's full library of reports in just seconds. And as with all RPR offerings, there is no cost to your members to use the mobile app.
Promotional Resources
Here are a few valuable resources that will assist you in communicating RPR Mobile™ to your members